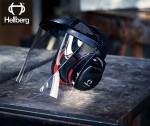 SAFE face protection
Published: 06 May, 2020
HELLBERG SAFETY specialist PPE products include highly advanced hearing protection products, face protection and communication solutions for personal wellbeing on site.
The company says its SAFE face protection range offers visor solutions to suit a variety of different internal and external work environments. With a standard product design across all the products, the visors and carriers can be combined with hearing protectors and safety helmets for more complete solutions, or be used as individual visor solutions.
The company says these stylish products give multiple options that all fit perfectly together, choose one of its ready-made combinations, or select your own combination of carrier, visor and hearing protector. Hellberg says everything is really well made, comfortable to wear and delivers superb, practical protection for the hazards you're likely to face - whatever job you're doing.
t: 01484 854788
e: sales@hultaforsgroup.co.uk
Click here for the full unedited version of the release as supplied by the company