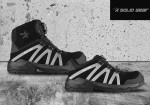 Great value safety footwear
Published: 10 September, 2019
SOLID GEAR says combining maximum comfort and protection with a robust and durable design, the Onyx is available as a shoe or a boot and is ideal for different types of on-site work.
The company says this EN-accredited footwear has a modern-looking style that integrates a seamless upper and Cordura reinforcements with a poured polyeurethane midsole, a breathable footbed and strong rubber outsole for maximum grip on slippery and uneven surfaces. Metal-free protection comes from the fiberglass toecap and penetration board for extra personal safety.
The company also says the unique BOA Closure System – used on many top-brand sports shoes - distributes the pressure of the fastened shoe evenly across your feet to ensure a glove-like fit all day for maximum comfortable protection.
t: 01484 854788
Click here to read the full unedited version of the release as provided by the company