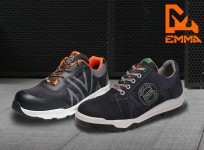 Safety footwear added to portfolio
Published: 20 February, 2020
The Hultafors Group's PPE portfolio already includes market-leading tools, workwear and protective wear brands such as Snickers Workwear, Solid Gear and Toe Guard safety footwear, Hellberg Safety and Hultafors Tools.
The company says that the acquisition of EMMA Safety Footwear considerably enhances its range of safety shoes and boots with fully accredited, excellent value footwear to satisfy a wide range of user needs and working environments including light and heavy industry sectors plus office and retail environments.
Complementing the Solid Gear and Toe Guard range, EMMA safety footwear includes all the Hultafors Group hallmarks of hi-tech designs that combine top quality materials for ultimate comfort, maximum safety and wellbeing at work.
t: 01484 854788
e: sales@hultaforsgroup.co.uk
Click here for the full unedited version of the release as provided by the company