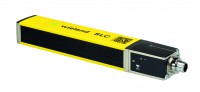 Safety light curtains provide access control
Published: 16 December, 2020
WIELAND ELECTRIC says its SLC Series safety light curtains have been designed to protect operators from dangerous areas or as access control against unauthorised trespassing.
Featuring slim, rigid housings that can enable easy adjustment and stable operation, with integrated double-scan technology that avoids unwanted downtime in even the harshest operating conditions, the company says the robust and reliable SLC Series safety light curtains provide effective and economical optoelectronic protection customisable to nearly any machine application.
When using multiple systems, mutual interference is avoided by using the adjustable range reduction feature, whilst the integrated double scan technology eliminates the risk of unnecessary shutdown even in harsh environments. Planning of safeguards is simplified and there is less type diversity because every SLC from 0 m to the maximum range can be utilised.
Click here for the full release
t: 01483 531213