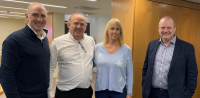 Acquisition strengthens UK portfolio
Published: 13 January, 2022
As part of the Group's network development strategy, RUBIX says it continues to extend its engineering, motion control and automation services offer in the UK with the acquisition of Leicester-based KJN Automation Limited (KJN).
Established in 1997, KJN is one of the UK's leading suppliers of aluminium profile and associated products and accessories.
KJN's workshop in Leicester is a one-stop shop for customers requiring aluminium profile solutions across the country. The company is renowned for supplying high-quality aluminium profile solutions and components, and for its expertise in precision engineering; value-added services include turning, milling, grinding, spark eroding, sawing, fabrication and welding, as well as bespoke CNC machining and CAD design services. KJN's dedicated design team can design and build bespoke workstations and panelling.
Click here for the full release
w: www.aluminium-profile.co.uk