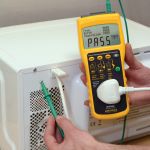 Portable appliance testing
Published: 09 September, 2019
MARTINDALE ELECTRIC says when it comes to testing portable appliances, its HPAT Series of portable appliance testers now includes the HPAT400 and new updates to its existing range, to enable both contractors and competent in-house personnel to quickly and safely verify the electrical safety of all types of appliances.
Designed to perform safety checks in accordance with the IET Code of Practice, the lightweight HPAT Series of handheld testers feature one button automatic testing and ultimate portability.
The company says the compact design with bright backlit display, provides the perfect solution for testing in all locations, whether it's under a desk or behind a monitor, where lighting may be restricted and easy to use. Martindale Electric says the new HPAT400 Electric is an affordable, battery powered PA tester.
w: www.martindale-electric.co.uk
Click here for the full unedited version of the release as provided by the company