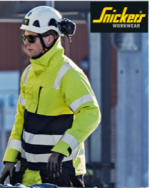 Electric Arc - understand the risks
Published: 05 August, 2019
SNICKERS says as working clothes on site go, there's a big difference between conventional electrician's workwear and specialist ProtecWork garments from Snickers Workwear, which includes protective wear for electricians.
The company says ProtecWork, the new ergonomically designed Protective Wear from Snickers Workwear, has a number of CE (European Conformity) mark across the product range. It has been designed and developed to protect the wearer from serious risks such as heat, flames, electric arcs and hazardous chemicals - in effect, clothing that can mean the difference between life and death for the wearer.
ProtecWork from Snickers Workwear is said to be the new protective wear solution that will deliver the right level of layered protection to help ensure comfort, safety and well-being on site.
t: 01484 854788.
Click here for the full unedited version of the release as provided by the company