New gloves range
Published: 10 September, 2014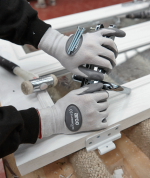 ARCO says the UK is currently the 11th largest manufacturing nation in the world; with manufacturing making up 54% of UK exports and directly employing 2.6 million people. With UK manufacturing remaining a key industrial sector and precision assembly increasingly required, the company says it is important that hands are suitably protected.
With this in mind ,it has launched a brand new range of gloves, specifically designed for light manufacturing and assembly job roles.
From building washing machines to assembling circuit boards, Arco Assembly gloves are designed to provide high levels of comfort, dexterity and flexibility; said to make them ideal for applications requiring deftness, nimble fingers and a high level of grip such as micro construction and white goods assembly.
Click here for the full unedited version of the release as provided by the company