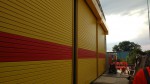 Train-care depot gets new roller shutters
Published: 09 May, 2019
A large rail depot in Wimbledon has demonstrated the investment necessary for the integration of the rail with city life providing essential maintenance to keep the network moving.
The build contract completed by Geoffrey Osborne has taken over two years to complete. HART DOOR SYSTEMS says it worked closely with Osbornes and its steel frame suppliers to provide a high quality finish.
The construction is steel frame and insulated cladding. The doors are nominally 5M wide x 5M high. Made from steel insulated lath profile in powder finish they have lath profiles of 100mm with a thermal value of minimum 0.69w/m.sq.k and 18db standard across the lath with increasing performance options available.
Guides incorporate brush seals to seal and minimise operational noise. The doors are press button operated through safe-drive electric motors providing full compliance to all BS EN standards of operation and safety. The company says Wimbledon can expect at least 30 years life out of the new installation reflecting on the fact previous doors supplied were Hart's Speedor high speed fabric doors installed in 1989 now redundant by redesign of the depot. The installation was completed in one week on programme and on budget.
t: 0191 214 0404