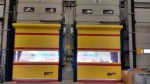 Seven Storms solution
Published: 21 August, 2019
Working for a major online retailer, HART DOOR SYSTEMS reports it has installed seven of its successful Speedor Storm doors at a high-volume distribution facility.
The company says all Speedor Storms, five of which measure 5m x 5m and two 3m x 3m, were installed to the despatch building on busy door openings. The Speedor Storms allow quick and easy access to the openings where sectional overhead doors were being left open enabling heat loss and an unpleasant working environment.
Hart provided expert design advice, specification and installation. A Hart spokesman says: "Speedor Storm is being increasingly used in high traffic situations where exceptional wind resistance is required. The energy-saving potential of this door is also particularly high.
We find the Storm is used predominately as an external rolling door with a unique guide system offering wind resistance up to class 5 as defined by DIN EN 12424, on larger openings up to 8m x 8m. Capable of withstanding winds up to 90 mph when closed, the Storm is a robust and reliable system."
t: 0191 214 0404