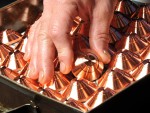 Global Automotive Components and Suppliers Expo
Published: 25 April, 2019
DAWSON SHANAHAN, a specialist in cold-forming and specified machined components, has announced it is attending the Global Automotive Components and Suppliers Expo in Stuttgart, Germany next month, Stand G6380.
The company will be showcasing its latest products and technologies, including a selection of new components for the electric vehicle market. Investment in state-of-the-art process simulation solid modelling, cold forming presses, CNC Turning and Milling equipment.
A team of engineers will also be on hand to discuss the company's services from tool design, process simulation and rapid prototyping, through low and high-volume production, to project management and single source agreements that help minimise costs, reduce lead times and improve quality and reliability of supply.
Since its foundation in the 1940s, Dawson Shanahan has been heavily involved in the automotive sector, in both high-volume manufacturing and in the development of specialised components for motorsport, from F1 downwards.
Click here for the full unedited version of the release as provided by the company