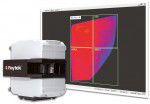 Two know more than one
Published: 13 November, 2018
Combining two devices using two different temperature measurement technologies, FLUKE PROCESS INSTRUMENTS says it provides the glass industry with more information on high-value applications like float glass manufacturing, glass tempering, and windshield forming and laminating.
The company says temperature profiling runs with a data logger enable operators to quickly optimise furnace settings for new products and to identify problems with burners or airflow and they are complemented by a thermal imager installed at the furnace exit for 100 % production monitoring and traceability. Datapaq Furnace Tracker profiling systems travel through heat-treatment and quench processes.
The manufacturer says it offers the largest range of thermal barriers in the market and can advise customers on which system setup to use for their applications.
t: +49 . 30 . 478 008-0
e: marcom2.emea@flukeprocessinstruments.de
w: www.flukeprocessinstruments.com
Click here for the full unedited version of the release as provided by the company