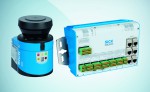 NAV-LOC localisation solution
Published: 03 April, 2019
SICK says it has set Automated Guided Vehicles free from the need for reflectors or other physical markers with the all-in-one NAV-LOC localisation solution, enabling them to navigate more reliably and efficiently around shop floor and warehouse environments.
The company says the SICK NAV-LOC (Localisation On Contour) is an easy-to-set up solution based on a SICK NAV 360o LiDAR scanner that can be integrated into new or existing AGVs. By recognising the pre-mapped contours of a factory or warehouse interior, the system eliminates the need for time-consuming and costly installation of reflectors, special paints, tracks, magnetic strips or coloured tapes.
The SICK NAV-LOC system uses precise 2D data from the SICK NAV310 LiDAR scanner to match its position to a reference map stored on a SICK SIM2000 Sensor Integration Machine.
t: 01727 831121
e: andrea.hornby@sick.co.uk
Click here for the full unedited version of the release as provided by the company