Collision and detection warning
Published: 15 June, 2017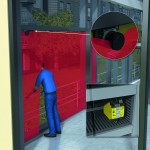 Global sensor manufacturer SICK reports it has combined its technology-leading expertise in laser scanning and machinery safety to develop a next-level outdoor collision and detection warning system which achieves up to 80m-wide, 270 o field of view with high levels of reliability.
The company says the SICK AOS Prime prevents collisions between moving and fixed objects such as gantry cranes, crane booms, stackers and side-loaders, road, airport and rail vehicles, including intrusions of personnel or other vehicles into danger areas.
SICK says the system combines its LMS laser scanner and the modular SICK Flexi Soft controller to deliver highly reliable object detection in critical outdoor applications, with sensor self-monitoring to avoid system failures.
t: 01727 831121
e: andrea.hornby@sick.co.uk
Click here for the full unedited version of the release as provided by the company