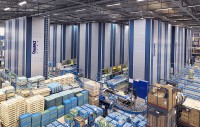 Compact vertical storage system
Published: 01 March, 2022
RANDEX, a leading vertical storage lift company, has announced it is launching a new version of its 'Compact' system, built using its industry-benchmark automated vertical storage technology. New features of this latest system include a modern, updated HMI* touchscreen that is highly intuitive and user friendly according to early feedback from Randex users.
The touchscreen offers varying levels of user access, and can be seamlessly integrated into company operations, early users report. In response to market demand Randex has also introduced a new four-metre-wide, modular tray option: this can be used to increase storage more flexibly, say Randex who expect it to be popular with manufacturing and logistics companies. (*Human-machine interface)
The new system will be launched publicly on the Randex stand at the March 2022 'IntraLogisteX' and April 2022 'MACH' shows.
Click here for the full release