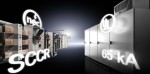 Regulations advice
Published: 09 August, 2018
RITTAL says it embraces the need for a high degree of responsibility for the safety of users and the electrical equipment its enclosures are designed to protect and as such the company has a policy of always being on the front foot when it comes to fully complying with international regulations.
In the USA and Canada, for example, a machine cannot be commissioned until approved by the AHJ (Authority Having Jurisdiction) to confirm compliance with the valid regulations, such as the National Electric Code NEC (NFPA 70).
For enclosure manufacturers such as Rittal, compliance with UL 508A is an important basis for the swift commissioning and approval of equipment and machinery, and the company offers a broad spectrum of industrial enclosures with UL approval.
www.rittal.com/uk-en/content/en/unternehmen/presse/pressemeldungen/pressemeldung_detail_55232.jsp.
www.rittal.co.uk / www.friedhelm-loh-group.com
Click here for the full unedited version of the release as provided by the company