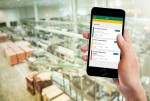 Mobile working drives evolution
Published: 02 August, 2018
SSG INSIGHT has announced a new extension of its mobile solutions offering to provide customers with access to its market-leading Agility 9 asset management system via Apple mobile devices.
SSG says the mobile apps enable engineers and maintenance teams to easily create, accept, update and view work orders on the go, allowing teams to become more efficient and productive.
The company says creating a streamlined workflow, Agility Mobile Solutions speed up response times, reduce completion times and minimises administration. Easy-to-navigate features include the ability to accept, suspend and complete work on the move, raise a new job and capture important information to help identify issues and complete work.
Consistent, quick and easy system access, regardless of location, means customers see significant benefits including the reduction of completion times and the ability to improve quality by reducing duplication and errors through a consistent information flow.
Click here for the full unedited version of the release as provided by the company