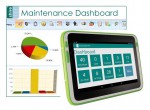 Maintenance software solution
Published: 06 September, 2018
SHIRE SYSTEMS has announced new FM Modues for Pirana CMMS, its complete maintenance software solution and says it's affordable.
The company says the price of Pirana CMMS proves that organisations don't have to look to expensive and complex systems to meet maintenance goals and the Resource Planner offers a calendar view of work orders, schedules, shifts, unavailability, staff suitability based on trades, locations and working hours and there is a new 'My Diary' feature enabling drag-and-drop options for work orders.
Shire says Pirana CMMS is scalable with no hidden costs and it's so easy, it's possible to get started in minutes. Pirana Mobile PRO is a set of mobile applications for work orders, on or off-line and will work on a variety of everyday devices.
t: 023 8044 2111
e: sales@shiresystems.com
Click here for the full unedited version of the release as provided by the company