Winter covered from head to toe
Published: 16 October, 2015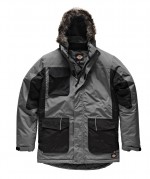 DICKIES, an internationally renowned workwear brand, says it has an excellent range of workwear designed for warmth, with thermal clothing often the product of choice on exceptionally cold days or freezing weather conditions.
Dickies says its products are tested in the harshest environments to ensure satisfaction and comfort and these thermals have been worn throughout cold UK winters for many years.
Dickies says hooded tops, or hoodies as they are now commonly known, have become iconic with the more youthful workwear market. Full zipped or over the head designs and various printed designs are available in core workwear colours and fabrics and the company says customers can be sure that a work hood from Dickies will be perfect for either work or leisure wear.
Click here for the full unedited version of the release as provided by the company