Environmentally friendly packaging solutions
Published: 13 February, 2018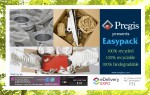 PREGIS says it will be showcasing its world class suite of Easypack environmentally friendly packaging solutions at this year's Packaging Innovations and eDelivery Expo shows taking place at the NEC in February and March 2018. The company says the award-winning Easypack range of high quality, in-the-box packaging systems produce 100% recycled, 100% recyclable and 100% biodegradable paper cushions, suitable for protecting and securing all kinds of goods-in-transit from breakables through to heavy engineered products.
During both of these two day events, the Pregis team of packaging experts will also be giving live demonstrations of a multitude of clever, packing techniques that can transform packing operations, cut costs and help to protect the environment.
Visitors can also pick up information on a range of value-led services ranging from packing training through to the much-valued tree-saving initiative.
t: 01438 740649
e: info@pregiseu.com
Click here for the full unedited version of the release as provided by the company