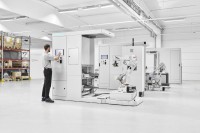 Robotic handling solutions on show
Published: 01 March, 2022
ABB has announced it will showcase its latest advanced automated handling and robotics solutions at MACH 2022 (NEC Birmingham, 4-8 April), including a high payload collaborative robot, machine tending systems to suit every production need and a magnetic levitation-based conveyance system.
Stand 18-310 will feature an example of one of ABB's latest robotic machine tending solutions. The ABB FlexLoader M for AGV, is a fully automated feeder for automated guided vehicles. Handling all types of workpieces, it can pick straight from the pallet brought to it by the AGV.
ABB's complete range of FlexLoader M automated machine tending solutions will be shown on the stand in a series of videos and displays, with solutions designed to suit every need, from simple applications to advanced tasks.
Click here for the full release
w: https://new.abb.com/products/robotics/