Up to date with measurement technology
Published: 30 January, 2018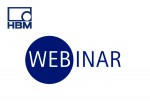 Following on from a successful series of webinars, HBM – a market leader in the field of test and measurement – has announced the date for its latest free webinar, 'Minimising Measurement Uncertainty: how to set up strain gauge based precision measurement chains', which will take place on February 22nd 2018 at 9am (GMT).
Aimed at all measurement engineers in charge of planning or taking measurements, as well as users performing measurement data analysis, this latest webinar from the HBM Academy, will offer a general introduction to strain gauge based high precision measuring chains and is designed to help individuals choose the right reference transducers (force, torque and pressure).
Presented by Dr. André Schäfer, development manager for high precision measurement chains at HBM, this 30 minute webinar will discuss the factors which can influence strain gauge based measurements.
t: 0208 515 6000
e: info@hbm.com
w : www.hbm.com
Click here for the full unedited version of the release as proivded by the company