Weighing up the best solution
Published: 24 January, 2018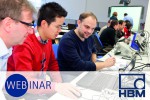 As part of its series of free informative webinars, HBM – a market leader in the field of test and measurement – has announced the date of its latest session, "Precise Weighing in Your Packaging Machine", which will take place on February 21st 2018 at 10am (GMT).
The company says as the market for packaging machines becomes increasingly demanding in terms of maximum system productivity, this webinar will explain the benefits of In-Line weighing. With precision being a key factor in filling and dosing processes, deviations need to be corrected without delay in order to reduce overfill and keep rejected products to a minimum. This webinar discusses how this can be achieved by incorporating In-Line weighing into your packaging machine.
HBM says in this webinar, participants will be introduced to the topic of In-Line weighing and will be advised on which HBM measuring chain best suits which packaging type. Culminating in a live visual demonstration, this webinar will also illustrate the different measurement chains in action.
t: 0208 515 6000
e: info@hbm.com
web : www.hbm.com
Click here for the full unedited version of the release as provided by the company