New intelligent signal conditioner
Published: 12 April, 2018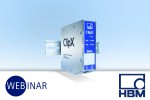 Following the launch of its new ClipX amplifier, HBM – a market leader in the field of test and measurement – has announced the date of its latest free webinar, "Advantages of Digital Force Measurements", which will take place on Thursday 19th April 2018 at 9am (GMT).
Presented by Michael Guckes, HBM product manager, the 30 minute webinar will look at the benefits of digital measurement chains and give participants an introduction to the new intelligent signal conditioner ClipX.
ClipX is the latest signal conditioner from HBM. Designed to optimise production processes, the company says ClipX is a dynamic signal conditioner that not only amplifies the signals and transfers them to the control unit, without reduce the load on higher level controls and this means that the innovative ClipX is able to accomplish some of the tasks that would be otherwise taken on by the higher-level controller.
t: 01525 304980
e: info@uk.hbm.co.uk
w: www.hbm.com
Click here for the full unedited version of the release as provided by the company