Hydra-Cell metering solutions
Published: 29 November, 2017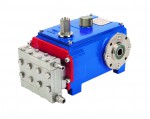 WANNER says its new Hydra-Cell Metering Solutions model MT8 triplex metering pump is designed to handle a variety of processing liquids with very high accuracy at very low flow rates; delivering a smooth virtually pulse-less flow for a very homogeneous injection of liquids at process pressures from 0 to 245 bar.
The company says it features a multiple diaphragm design to provide virtually pulse-free flow without the need for pulsation dampeners and the new Hydra-Cell MT8 pump exceeds API 675 performance standards for steady state accuracy (±1%), linearity (±3%) and repeatability (±3%) the company states.
Flow capacity for the MT8 ranges from a minimum of 00.227 lph to a maximum of 30.28 lph with discharge pressure ratings up to 241 bar (3500 psi) depending on flow.
Click here for the full unedited version of the release as provided by the company