Pumps for de-scaling
Published: 25 August, 2017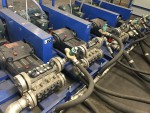 When a major producer of heavy-duty industrial cleaning machines was commissioned to design and manufacture a high-pressure cleaner/de-scaler for an agricultural equipment manufacturer, it turned immediately to HYDRA-CELL seal-less pumps.
Hydra-Cell diaphragm pumps have no dynamic seals to wear and no tight internal tolerances, ensuring long-term efficiency and reliability with no seal maintenance.
The Company had good past experience of using Hydra-Cell leak-free, low maintenance pumps but for this particular application the liquid flow requirements were substantially higher than previously encountered.
The answer was to use four Hydra-Cell T100K triplex pumps in parallel in order to achieve a flow of 681 lpm at 193 bar pressure. The company says the pumps handle the solid abrasive particles with ease and have proved to be an exceptionally reliable solution.
t: 01252 816847
e: NHerrington@wannerint.com
Click here for the full unedited version of the release as provided by the company