Free webinar on 'Checkweighing with Load Cells'
Published: 21 September, 2017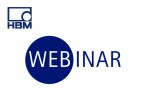 HBM, a market leader in the field of test and measurement, has announced the date for its latest free webinar on 'Checkweighing with Load Cells', which will take place on October 5th 2017 at 9am (GMT). HBM says checkweighing is most commonly used to control completeness of products, assembles or kits and this process describes weighing a certain object against a preset target.
Following a general introduction on how to achieve optimum quality control via checkweighing, this webinar will discuss the advantages of checkweighing with load cells based on strain gauge technology.
Participants will also be given the opportunity to watch a live demonstration on how the HBM checkweighing algorithm, signal analysis, and on-the-fly filter simulation, work.
Presented by Thomas Langer, product manager of HBM Digital Weighing Technology, this informative seminar has been designed to fit in with the challenging time constraints which can often make attending relevant training courses difficult.
t: 020 8515 6000
e: info@uk.hbm.co.uk
w: www.hbm.com
Click here for the full unedited version of the release as provided by the company