Open Innovation portal
Published: 17 May, 2017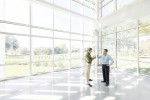 With needs growing exponentially along with population, SANDVIK says it believes it's vital to find smarter, safer ways forward and says with the launch of its new Open Innovation portal the company seeks to collaborate with like-minded innovators to deliver the next generation of products and solutions that will make a true difference.
Sandvik's Open Innovation portal invites individual inventors, small businesses and listed companies to propose innovative solutions to a number of specific challenges. The company says it also encourages its own employees to use the portal for releasing creativity and utilising their collective knowledge on customer's applications and products.
The portal features innovation challenges for which individuals or groups can submit ideas and have the opportunity to discuss, develop and implement them.
w: http://smt.sandvik.com/open-innovation
Click here for the full unedited version of the release as provided by the company