Major events unite at WWEM 2016
Published: 21 September, 2016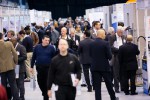 WWEM 2016 = 8 Conferences + 80 Workshops + >140 Exhibitors. Visitors will come to Telford 2nd-3rd November to learn about the latest developments in regulations, technologies, methods and standards in lab, process and environmental monitoring.
The WWEM Conference titles include 'Priority Pollutants Legislation: Issues for Industry and Potential Solutions,' 'Resilience of Sensor Networks' and the 'Maintenance of Sensors.'
Major parallel events include an IWA Conference on 'Big Data' and a CIWEM conference on the water and environment sector in 2050, plus a Workshop on 'Monitoring for Hydraulic Fracturing,' an EFASIG meeting on environmental analysis, a Flow Forum and a 'BIM' Awareness Day.
Pre-registered visitors (www.WWEM.uk.com) receive free parking, refreshments and lunch, plus free access to the Exhibition, Workshops and Demonstration Area, the EFASIG BIM meetings, and the Flow Forum.
t: 01727 858840
e: info@wwem.uk.com
Click here for the full unedited version of the release as provided by the company