Distinctive shield badge
Published: 22 January, 2016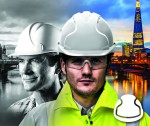 JSP says the millions of people who wear its industrial safety helmets worldwide know and instantly recognise the highly distinctive 'shield' shape on the front, which gives them reassurance that they are the genuine article.
Unique to JSP, the company says the carefully crafted identifying shape has evolved over the last 40 years for the purpose of clearly distinguishing the helmet from others in the marketplace as a true JSP article, and therefore to be trusted by procurers, site managers and users to give outstanding head protection with its exceptional quality and durability.
JSP says its shield shape badge of identity has become ever more important in recent years owing to the increasing proliferation of cheap, illegal, counterfeit helmets in international circulation.
t: 01993 826050
e: uksales@jsp.co.uk
Click here for the full unedited version of the release as supplied by the company