Automatic safety hook range
Published: 23 September, 2015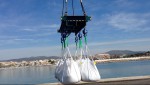 Barcelona based ELEBIA reports it has made available two major enhancements to its automatic hook range, which keeps crane operators and those responsible for rigging at a safe distance when connecting loads to lifting equipment.
Elebia says the patented hook is equipped with a magnet that both attracts and positions slings and other rigging gear and safety and productivity is further improved with optional additions—a new remote control system called the eMax and a load cell.
The company says it represents the continued evolution of one of the most innovative products in the lifting industry. Eight years ago, Elebia was awarded a patent for the product, which was introduced to the market two years later as a failsafe, 5t capacity hook (the e5) that was able to remotely engage and release loads. In 2010, the e10 was launched before second generation versions followed (the evo5 and evo10) two years later and a evo20 was later unveiled.
: https://drive.google.com/file/d/0ByJz0Acb4IlmdlJkNHI4UVVWc1U/view
Click here for the full unedited version of the release as provided by the company