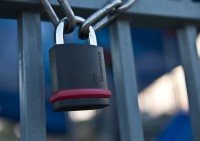 Padlocks excel in Sold Secure testing
Published: 19 February, 2021
Security specialist Mul-T-Lock has announced it has recently had its high security NE and NG padlock ranges tested by Sold Secure, with impressive results.
Mul-T-Lock says its wide range of mechanical and electromechanical padlocks are built strong to meet the needs of almost any requirement and application, with many utilising patent-protected technology.
Leading the series are the NE and NG range of padlocks, which are capable of functioning with high reliability in all conditions, providing excellent resistance against physical attacks and maximum resistance against weather and other environmental conditions and impacts, such as corrosion.
The company says the NE and NG range is not only CEN Rated from 3 up to 6, but also Sold Secure Bronze, Silver and Gold certified by the Master Locksmith Association.
Click here for the full release
t: 01902 364200
e: internalsales@mul-t-lock.co.uk