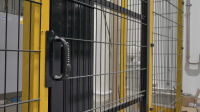 Brandsafe's range of modular cages and enclosures for improved safety and security of power control systems, equipment and products
Brandsafe modular approach for improved industrial workplace equipment security
Published: 06 September, 2022
Improved safety and security of power control systems, equipment and products in industrial workplaces is provided with a range of modular cages and enclosures now availablefrom impact protection equipment specialist, Brandsafe.
Manufactured from high performance galvanised steel and simple-to-install on-site, the security cages and enclosures provide the workplace with an enclosed area for equipment and products, reducing the chances of workers being injured by tripping over stored items or hazardous equipment. This not only helps to improve safety in the workplace but also operational efficiency and effectiveness.
The modular system comprises impact resistant posts with tough mesh panels that can be configured easily on-site for a flexible and effective protective solution. Also lightweight, units can be removed and relocated elsewhere, if necessary, while additional sections can be integrated as and when required, making them an efficient option for expanding businesses.
Systemoptions include galvanised posts with black mesh, yellow posts with black mesh, or custom colour depending on specific end-user applications. Gates, padlocks, euro-cylinder locks, emergency push pads and monkey tail-bolts can also be integrated to offer a fast and secure industrial safety solution.
Posts are fabricated from durable 60mm x 60mm square hollow sections coupled with baseplate, pre-thread fence clip connections and four safety plus floor anchors while specification is twin mesh 656 panels (200mm x 50mm aperture). Two finished height options are available - 2050mm or 3050mm - while maximum post centres are 2500mm.
Part of IWS Group, Brandsafe specialises in impact protection systems and solutions for distribution centres, warehouses, and manufacturing and production facilities. The company's product range combines the versatility and high visibility of polymer with the inherent strength and cost-effectiveness of steel. Its unparalleled project and consulting expertise offers an unrivalled solution for companies looking to put safety first.
More at https://www.brandsafeprotection.com/