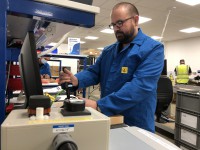 Light work of safety testing
Published: 15 December, 2020
A leading manufacturer of commercial and industrial LED lighting, NET LED, says it has improved the electrical safety testing of its products by using low power multi-function LED testers from SEAWARD.
The company, which is quality assured by the Lighting Industry Association, has been designing, manufacturing and supplying LED luminaires and systems for installation in commercial and industrial areas across the UK for over a decade.
NET LED invested in two HAL LEDs which, so far, have been used to verify the safety of more than 30,000 units manufactured at its factory in Cambridge before they are distributed to electrical wholesalers across the UK. It also uses the equipment to batch-test any products sourced from other manufacturers as part of quality control procedures.
Click here for the full release
e: sales@seaward.com