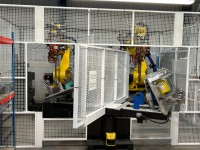 Welded to success
Published: 06 July, 2022
WILLIAM HUGHES says it has become an authority in the supply of welded wire assemblies, primarily for the automotive industry. The company says its expertise in MIG, MAG, TIG, spot/resistance and Butt welding processes has led to it establishing a total of 33 welding cells across its three factories in the UK, Poland and Bulgaria.
In the UK, William Hughes says it is the only supplier of large volume automotive welded assemblies, a skill it has spent the last twenty years perfecting, still trading.
William Hughes has always been a large volume producer of wires, springs and small welded assemblies for the automotive industry.
Twenty years ago, welding was carried out manually or by simple semi-automated machines but Engineering Director Emma Burgon had the foresight to focus on acquiring a contract for 100% rear seat welded assemblies.
Click here for the full release.
t: 01963 363377
e: sales@wmhughes.co.uk