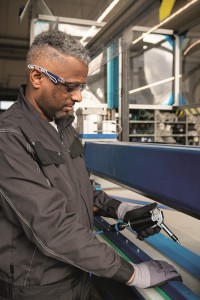 New product range available
Published: 16 November, 2021
Brammer Buck & Hickman, a leading UK supplier of industrial maintenance, repair and overhaul (MRO) products and services, has announced it has expanded its exclusive Mecaline brand to pneumatics, offering customers over 3000 product lines.
The company says Mecaline is recognised in the UK for its mechanical and power transmission products, but across Europe this brand is also well known for its pneumatics product range. Due to popular demand, the Mecaline pneumatics range has now been made available in the UK, providing customers with pneumatic products that combine quality and reliability, backed by Brammer Buck & Hickman's extensive engineering expertise and added value services.
Designed in collaboration with leading manufacturers in their respective fields, to very strict specifications, the Mecaline pneumatic range includes hoses and fittings, couplings, tubing, and cylinders.
Click here for the full release