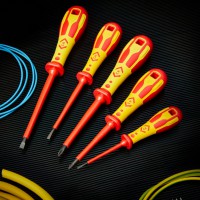 2022 'Fusion' promotion launched
Published: 17 March, 2022
CARL KAMMERLING NTERNATIONAL (CKI), the home of C.K Tools, says it is giving the electrical and industrial trade another reason to have access to the best tools for the job through its 2022 Fusion.
Live now and running until the 27 May 2022, Fusion is offering tradespeople and contractors a welcome discount with 170 products on promotion across the C.K Tools, C.K Magma, C.K Classic, Avit and Kasp Security brands.
With discounts of up to 54% at participating stockists, CKI is also making five new products, two new tool kits and three exclusive bundles available for a limited time only as part of the deal, rendering this the business' most standout Fusion promotion to date.
Click here for the full release
To find your nearest stockist visit:
www.ck-tools.com/find-a-stockist
www.avit-tools.com/Stockist_Directory/
www.kaspsecurity.co.uk/stockist-search/