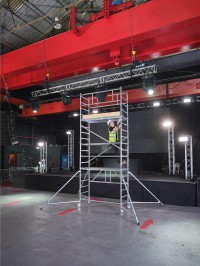 One solution for work at height needs
Published: 03 March, 2022
With both user convenience and versatility at the forefront of its design, ZARGES says its PAXTower offers the perfect all-in-one solution for carrying out maintenance work or jobs at height within a factory or site setting.
The easy-to-assemble and easy-to-use structure ensures that maximising productivity on site is readily achievable, while guaranteeing the ultimate user safety. The adjustable 7.6m working height provides access, making it suitable for a variety of different applications; while the stringently tested and ergonomic design, in accordance with the latest EN1004 standards, ensures safe working at all times.
To assemble, users simply fold out the base frame until it clicks into place. When building the tower to higher levels, a specially designed slot-in spigot with interlock clips prevents tilting when connecting the end frames, enabling a smooth build.
Click here for the full release