IdeaHub Innovation Challenge
Published: 13 January, 2017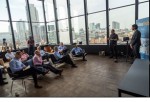 ABB has announced it is supporting global innovation and seeking engineers, entrepreneurs and      innovators to write the future together by announcing a global competition with the IdeaHub  innovation platform.
ABB and the IdeaHub are recruiting innovators worldwide to take on the challenge of transforming the role of variable speed drives in an industrial setting which may include improving the design, use and operation of drives or finding entirely new use cases for drives. Successful applicants will pitch their ideas to ABB in spring 2017 and secure uniquely tailored support packages to maximise their venture's commercial potential.
ABB and IdeaHub say they are looking for solutions to three core challenges facing the next generation of drives and controls:
1) Connectivity: No drive is an island! During 2016 there will be as many connected devices as people on this planet.
2) Simplicity: 'Simple can be harder than complex; you have to work hard to make it simple'. Drives from ABB enable industry to do more, with less.
3) Intelligence: It's not what you have, it's what you do with it. There has been an exponential growth in the volumes of data produced by people, machines, sensors and devices.
Morten Wierod, MD of ABB's Drives and Controls business unit says: "We are excited to announce this competition and look forward to receiving ideas from innovators around the world. ABB is at the forefront of the Fourth Industrial Revolution and collaboration with our partners, customers and other entrepreneurs is the key in building emerging ecosystems around the Industrial Internet of Things. Investing in strategic partnerships helps develop solutions that improve our customers' operational performance and productivity by increasing uptime, speed and output. We believe that this kind of collaboration also helps reduce time-to-market for these solutions, enabling our customers to take advantage of industrial digitalization much quicker and more flexibly. "
The IdeaHub platform is open for applications until January 31 2017. Successful applicants will get the chance to pitch their ideas directly to ABB at an IdeaHub event in April 2017.
www.theideahub.co.uk/challenges
Click here for the full unedited version of the release as provided by the company