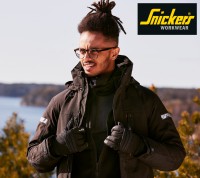 Cold weather working
Published: 05 January, 2022
Continuous work in cold weather produces body heat and sweat. But when the rate of work slows, the sweat cools and workers will start to feel cold and damp. SNICKERS WORKWEAR says the solution is its body-mapping Mid-layer working clothes that deliver advanced ventilation to control and regulate the heat from the body.
The company says made to last from sustainable fabrics such as micro fleece and recycled polyester, they're great for both work and leisure activities and these garments insulate and keep heat around the body by effectively creating an air pocket inside clothes.
They complement Snickers Workwear's FlexiWork Base-layer undergarments that combine sustainable animal-friendly Merino Wool with polyamide for warmth and ventilation.
Click here for the full release
t: 01484 854788
e: sales@hultaforsgroup.co.uk