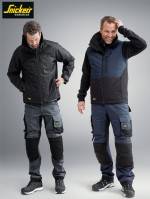 Winter jackets and gilets
Published: 07 November, 2019
SNICKERS says these new ALLroundWork jackets and gilets are just what the name suggests – delivering a great all-round performance on site with a Ripstop water-resistant outer fabric and a coated inner fabric for extra durability.
The company says they are wind-resistant too and all have the features and functionality that you'd expect in Snickers Workwear clothing. Designed for optimum comfort and flexibility when customers are on the move, they're great-looking working clothes that will keep customers feeling comfortable wherever they are and whatever they are doing at work in cold and windy weather.
With smart designs and an ergonomic fit, Snickers says its Workwear ALLroundWork garments are packed with must-have features that focus on functionality and freedom of movement as well as using innovative fabrics that deliver long lasting protection.
t: 01484 854788
e: info@snickersworkwear.co.uk
Click here for the full unedited version of the release as provided by the company