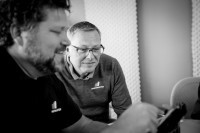 Global expansion continues
Published: 24 November, 2021
MAINTMASTER, a leading provider of maintenance management systems, has announced it has established an office in London, to support its growth plan.
MaintMaster says its cloud-based, extremely flexible, easy-to-use system helps manufacturing companies digitalise and improve efficiency while reducing downtime, increasing machinery lifetime, and enabling greater control over maintenance.
"MaintMaster sees enormous potential to deliver our software solution to the UK market. It's one of the largest manufacturing markets in Europe and home to many leading companies," head of sales Henrik Hagdorn said. "We have a number of customers with sites in the UK and an organisation that is ready to support new customers in the UK from day one. The next natural step for us is to expand with an office to deliver the best experience and value at the local level."
Click here for the full release
t: +46 13 377 900
e: tom.reames@maintmaster.com / Jon.lindholm@maintmaster.com