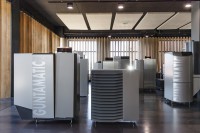 Sustainable heating with biomass
Published: 27 October, 2021
Guntamatic operates internationally producing high-tech biomass heating systems. From fully automatic log wood heating systems through to pellet heating, Guntamatic says it continually demonstrates itself to be the leader in innovation in its industry. The company has always used FRONIUS welding technology to ensure the high-quality production of its products. Since 2020, the Austrian family-run company has also put its trust in the Fronius TransSteel 4000 Pulse to improve overall manual welding efficiency in production.
Guntamatic says its hybrid heating systems combine the best of both worlds, the perfect combination of heat generation by means of an electric heat pump for heating water and biomass combustion. This means the system can constantly take advantage of stored prices for electricity and wood/pellets.
Click here for the full release.