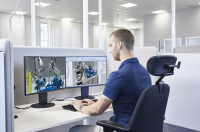 Masterclasses from the comfort of home
Published: 25 August, 2021
ABB Robotics range of robot training courses have been available online for almost 12 months. Built on the same materials used in its classroom-based courses, the Virtual Classroom Training programme is ideal for beginners and experts alike, covering topics including programming, safety and operation.
Each course is instructor led, with options pitched at different competency levels and participants will get the same certificate as the normal Milton Keynes classroom-based courses.
The following courses are available:
• IRC5 Operator Course (2 days)
• IRC5 Programming and Operation (4 days)
• IRC5 Advanced Programming, Stage 1 (5 days)
• IRC5 SafeMove Second Generation (3 days)
• RobotStudio Offline Programming (5 days)
ABB says these virtual training courses provide the ideal opportunity to keep staff up to speed on robotic technology.
To find out more about each course, including fees, and to register –
t: 01908 350481 (ref. 'Virtual Classroom Training')
Click here for the full release