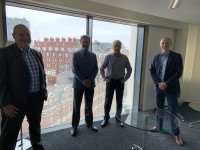 UK reliability services strengthened
Published: 17 August, 2021
RUBIX has announced it has acquired CompCare Compressed Air – a specialist in optimising compressed air systems- as part of the Group's network development strategy.
Based in Shropshire with a team of experts bringing over 70 years' combined experience, CompCare's focus is on extending the life and improving the efficiency of compressed air systems so that customers generate full value from their assets. This drives down the total cost of ownership, realising real energy savings and delivering on sustainability goals.
Rubix says the acquisition enables it to provide greater and enhanced access to technical services related to compressed air in the UK. It also supports the Group's ongoing drive to remain the leading multi-specialist supplier of industrial products and services.
Click here for the full release