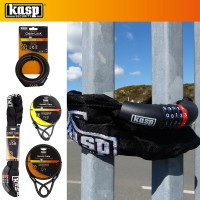 Security chains & cables
Published: 02 June, 2021
KASP, a leading brand in safety and security from CARL CAMMERLING INTERNATIONAL, has announced it has expanded its existing security chains range with three new additions, all offering high quality cost-effective security solutions for a multitude of environments. These include:
Kasp Combination Chain Lock - this premium heavy duty 8mm hardened steel chain is twinned with a 5-dial combination lock to provide security and keyless convenience for items such as site equipment like tools and lighting.
Kasp Combination Cable Lock (K4751215D) - this strong and flexible security cable includes a 4-dial combination lock, perfect for securing gates, outdoor furniture, tools and equipment.
Kasp Double Loop Security Cable (K4551018D/220D) - available in two lengths, this robust and flexible security cable features a hardened braided steel cable with a weather and abrasions resistant vinyl coating.
Click here for the full release
t: 01758 704704