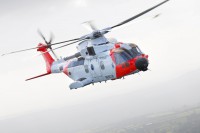 Integrated service partnership
Published: 05 May, 2021
A partnership spanning 20 years between the electromechanical service provider, AVONMOUTH ENGINEERING SERVICES and Leonardo Helicopters in Yeovil, provides one of the UK's leading aerospace companies with onsite integrated maintenance support. This minimises downtime and leaves the manufacturer free to design and build the helicopters which help defend national security and deliver life-saving care.
Leonardo has a strong and diverse supply chain. To ensure operational excellence, integrity, transparency and trust are of utmost importance to the company. The highest accolade for this trust goes to Avonmouth Engineering Services and there is a service division based on Leonardo's Yeovil site, embedded within the company's maintenance department.
Avonmouth is a rapid response full scope supplier of electromechanical, products, services and solutions. It supplies expertise, with a skilled and experienced workforce who operate every hour of every day.
Click here for the full release
Image: The Norwegian AW101 All-Weather Search and Rescue helicopter,
photo credit: Leonardo Company