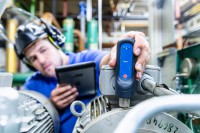 Getting started with predictive maintenance
Published: 12 February, 2021
SKF has unveiled its new entry level asset health system, said to make predictive maintenance accessible for all. SKF Plug and Play allows key data to be quickly measured and assessed, preventing asset downtime. If an alert is triggered, this can be sent directly to the experts for analysis and advice.
The SKF Plug and Play package includes an SKF QuickCollect sensor, the downloadable SKF Pulse app, 24 free pulse checks and access to the e-learning platform.
The QuickCollect sensor measures velocity, acceleration and temperature, ensuring that the readings are within the pre-set parameters. Results are displayed on the app which can be downloaded to most iOS or Android smartphones or tablets.
Andy Fletcher, ACORN's maintenance expert would be happy to discuss any maintenance requirements and answer any questions:
t: 0800 8766 441
e: enquiries@acorn-ind.co.uk
Click here for the full release