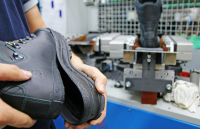 Safety footwear
Published: 01 December, 2020
We go behind the scenes with Simon Ash, UK Sales manager of HAIX, a leading safety footwear manufacturer , to find out what goes into the design and development of safety footwear and the testing that ensures they meet the high standards of comfort and safety that wearers have come to expect.
Q. What do you consider the most important elements in safety footwear? What are today's consumers looking for?
Without doubt, the most important factor in choosing safety footwear has to be quality and compliance. So, the first questions that consumers should ask are – what are the risks I'm facing at work, does the boot or shoe fully comply with the standards to meet those risks and is it going to keep me safe? Click here to read the full release.