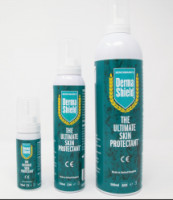 Hand protection solutions
Published: 18 September, 2020
Complementing its range of market-leading single use gloves, UNIGLOVES UK – part of UG Healthcare Corporation - one of the world's leading glove manufacturers, has announced it has introduced the protective skincare system, Derma Shield, to its offering. Designed to moisturise, protect and repair the skin, Derma Shield is CE marked and manufactured in the UK to Medical Device Standard ISO 13485. 
Derma Shield is known to protect the skin against common workplace skin irritants including greases, oils, inks, coolants, detergents, solvents, chemicals and paints or from working in outdoor environments. Derma Shield can be used across a wide range of industrial settings including engineering environments.
Dispensed as a light mousse for quick and easy application, Derma Shield forms a breathable and waterproof shield over the skin.
t: 0800 049 6602
e: enquiries@unigloves.co.uk.
w: https://unigloves.co.uk/derma-shield
Click here for the full release